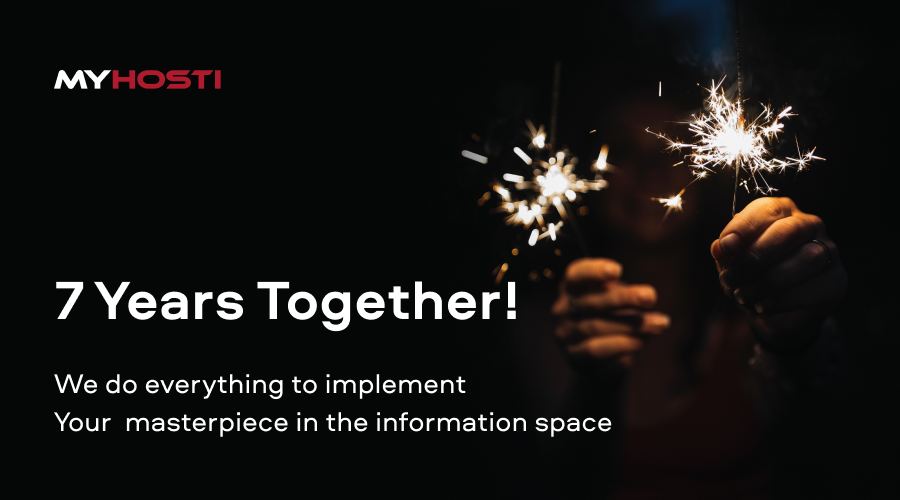 On November 4, the international hosting center MyHosti International celebrates 7 years since its launch.
Congratulations to the service team and customers! We have been working with many partners since the hosting was created. It is thanks to you that we manage to get excellent results and reach new heights in our professional activities.
Throughout the seven years of operation of the hosting center, we constantly strive to improve the efficiency of telecommunications in order to help our clients successfully solve their problems, develop their business and increase profits.
In 2020, MyHosti International received the status of an official OVHcloud partner. Now our service is the only official partner in Russia of this global vendor, one of the leading ones in the European telecommunications market.
During our work, we have achieved a lot that we can be proud of.
Significantly increased server hosting capacity. The main lines of our servers have been updated. There are new servers with significantly higher throughput than their predecessors. This has had a positive impact on the effectiveness of our business partners ' projects.
Thousands of customers trust us. We try to constantly improve the system of interaction with customers, increase the capacity of servers, make them more user-friendly and take care of the security of customer information hosted on hosting servers.
MyHosti International's position in the global hosting provider market has significantly strengthened. We managed to achieve this through the use of advanced technologies and methods that we have repeatedly tested on our own experience. Today, our hosting has a well-deserved reputation as a reliable partner.
In 2020 alone, we have offered our clients several important innovations that help them run their business more efficiently.
The dedicated server management panel has been Launched, allowing our clients to easily manage server services and some virtual servers. Now you can independently perform various operations to ensure effective maintenance of your business's digital infrastructure.
The service's servers are Installed in Russia. Modern equipment is located in a data center of the TIER-3, Raduga-2 class. The address of the server location is 12 Kantemirovskaya str., Saint Petersburg, 194100 https://k12.spb.ru/. Today, servers installed at this address form the largest traffic exchange node in the North-West region. Our servers in Russia allow you to ensure fault tolerance of trunk channels.
50 GB FTP storage is now available to our clients for free. If desired, our partners can increase the storage capacity to 1 TB for an additional fee. This increases the ability to back up customer data.
the Results of our work in the year 2020
302212 euros-discounts provided to customers from the beginning of 2020;
24000 processed requests;
53,000 completed orders;
21,000 new customers;
13,000 interactive services rendered.
Professional team
All our achievements are the result of well-coordinated creative work of the service team. Today, the international hosting center MyHosti International employs highly qualified specialists, whom we can safely call real professionals in the field of global telecommunications.
Most of our employees are young people, which means they are ready to learn new technologies that give new opportunities to hosting clients. A high level of technical competence and readiness to learn new things allows our specialists to quickly learn all the innovations that appear in the field of telecommunications, introduce new technologies and equipment.
In our work, we are guided by the basic principles
Reliability: we make sure that your projects are protected from possible attacks.
Professionalism: every employee of the service is well prepared and has extensive experience in their field;
Availability: we provide high-quality services at an adequate cost, which allows you to use all the opportunities available on the market of modern telecommunications to the largest possible number of enterprises and organizations.
We are committed to implementing the latest ideas to help our clients create even more effective communications. Our hosting center is often among the pioneers in the development of the latest innovations, offering new opportunities to partners.
We intend to keep moving forward. Our service is open to anyone who wants to develop their business using a reliable, modern and efficient digital platform.
You may be interested in