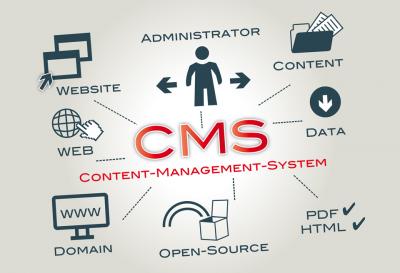 What functionality enables to perform CMS-system?
Creating websites based on templates.
Currently, on any of the popular CMS, there are hundreds of thousands of visual patterns thereby to create a site you just need to choose the most suitable for your needs and design an interface that completely eliminates hand-coding.
Visual editors.
All information content, whether articles, images, videos and so on. D. Loading pages on the site using a special interface that complexity does not exceed the use of the "Ward".
No extra plug-ins and modules.
If necessary, site functionality can be extended with special plug-ins and modules, they allow us to solve a variety of tasks, such as for example, a graphic gallery, chat rooms, feedback forms, and much more.
At the moment, various CMS-systems are many, they are designed for different tasks and represent different sets of functional, conditionally can be divided into 3 categories: free, paid and graphic designers websites.
Now the details:
Free. They have many advantages, in particular, such as the free use and distribution, open code, the use for any purpose.
The most popular and allows us to solve the widest range of tasks are: Joomla, Drupal, Wordpress.
Pay. They are usually added functionality particular to facilitate the work site. For example, paid CMS used to create online stores offer special system of control and accounting of goods, collection of statistics, support for a variety of gift coupons, and so on. D.
As a plus, it is worth noting that these CMS-systems have technical support.
Constructors sites. Graphic editor to create and modify the site by adding and "drag and drop" functionality elements on the page. In other words, you simply create the image, and the software creates this hard-working site.
You may be interested in